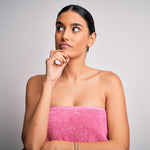 FINDING THE RIGHT SKINCARE: PART 2
Finding the right skincare routine can be a frustrating task as we have so many options and approaches available on how to take care of your skin. Here, at SAKARÉ- though we do have a variety of products to choose from, we do believe in keeping it simple.
These days, going back to some sort of normality in your day to day life, wether its back to work (not from home), kids back to school, the ability to actually go places, all these seem a bit overwhelming and in addition to that, continuing or starting to take care of your skin to keep its glow and glamor.
We at SAKARÉ are here to tell you that it is doable in just a few easy steps that will not take more that a couple of minutes a day.
step 1:
Cleanse & Tone
- in order to keep the skin clean and even toned we recommend using the SAKARÉ
Calming Milk Cleanser
to give your skin a proper cleanse to make sure is clean yet not dried out. And to tone your skin simply apply the SAKARÉ
Gentle Face Toner
with a cotton pad. ThIS step will give your skin clean and healthy looking.
step 2:
apply the 
SAKARÉ
Hydrating Mineral Complex
to give you skin all the moisture, hydration and nourishment it needs to maintain a healthy protected glow. (SPF can be applied after)