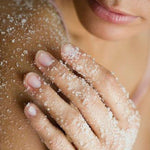 Deep Cleansing Salt Scrub
A scrub effective enough to show healthy looking skin yet soothing and nourishing.
Meet the Deep Cleansing Salt Scrub - A Salt based Body Scrub, rich in healing sea minerals and skin reviving vitamin E sourced from, Sweet Almond Oil. Our Deep cleansing Salt Scrub is perfect for all seasons of the year- to clean off dry and dead skin during the harsh weather of the winter and reviving dull looking skin to get your skin ready for the beach during the Summer. Our Deep Cleansing Salt Scrub only needs to be used, once a week to maintain satisfying results.